Company Profile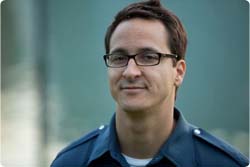 Cliff Flamer, MS, NCC, NCRW, CPRW, CEO of BrightSide Resumes, is a preeminent career counselor, resume writer, and job-search coach. He has been writing and editing resumes and consulting with job seekers on their careers since 1998. In his leadership over BrightSide Resumes, Cliff offers the following credentials:
Industry Awards
Winner of the esteemed "World's Best Resume Writer" competition (People's Choice Award), earning top votes from seasoned hiring panel of HR specialists, recruiters, executives, and fellow resume writers, as well as from anonymous job seekers.
Received most prestigious award in Counseling from San Francisco State University, becoming an adjunct faculty member immediately upon graduating, lecturing to a class of over 100 trainees.
Certifications
Nationally Certified Counselor with the National Board for Counselor Certification (NBCC)—a credential requiring 2 years of graduate-level counselor training from an accredited institution.
Certified Professional Resume Writer with the Professional Association of Resume Writers (PARW). Invited to join exam review board.
Nationally Certified Resume Writer with the National Resume Writers' Association (NRWA). Appointed as Certification Chair in August 2008 due to credentials, reputation, and high-quality craftsmanship.
Degrees
Master's degree in Career & College Counseling from San Francisco State University's CACREP-accredited graduate program. Ranked #1 in a class of 60 students, receiving "Most Distinguished Scholar" award.
Bachelor's degree in English from Tufts University in Medford, MA.
Recruiting Background
Previous 4-year career as a lead recruiter based out of Silicon Valley. Collaborated with 200+ hiring executives, HR staff, and in-house recruiters on their wants, needs, demands, and preferences in looking for qualified employees.
Well-honed expertise in coaching job seekers through all phases of the hiring process.
Publications
Cover Letters for Dummies, Joyce Lain Kennedy. Selected as 1 of 5 career experts whose resume *and* cover letter appears in this series.
Directory of Professional Resume Writers, Louise Kursmark. Selected as 1 of 40 writers whose samples appear in this publication, out of 1700+ resume-writer candidates.
Resumes for the Rest of Of Us: Secrets From The Pros For Job Seekers With Unconventional Career Paths, Arnoldt Bolt.
Happy About My Resume: 50 Tips For Building A Better Document For A Brighter Future, Barbara Safani.
No-Nonense Job Interviews: How to Impress Prospective Employers and Ace Any Interview, Arnold Boldt.
Written In Black and White, Cliff Flamer, Career Planning & Adult Development Journal, Vol. 21, No. 4.
BrightSide Resumes was founded on Cliff's passion for, and talent in, helping job candidates find the bright side of their work history while positioning themselves for succesful and rewarding job searches.
Since its inception, BrightSide Resumes has facilitated the advancement of professionals at all experience levels from recent graduates to seasoned executives. Simply put, if you're serious about finding fulfilling work and partnering with the best of the best in the industry to get you there, we can help.
Welcome to the BrightSide.